Welcome to Version 2.0 of the Chronicles, one of the many things overdue for a revision. For those of you who think I am biased towards Jin (you'd be right) but in all honesty, this was the only picture we had that was the right size. Hope you enjoy.
Clicking an author's name in one of the indexes takes you to their author's file. Be sure to tell us if something's broken! To go to the Bookshelf (Sensus' Fanfiction Archive), the door's here.
If you would like to be notified when the Chronicles is updated, please join the Update Mailing List. You will recieve notifications of all updates to the Chronicles and Noire Sensus.
Updated: 29 April 2005 | 4 new fics and 2 new authors
- New Fics -
To Feel Again [Kazuya X Lei]
by Chlover
Taming the Devil [Jin X Hwoarang]
by Jesse
The Quality of the Sword (is Determined by the Wielder of the Flame) [Hwoarang X Jin]
by M. Mishima
Seething Hatred [Hwoarang X Jin]
by Silvius
- Updated Fics -
Chapter 2 of Demolition Lovers [Hwoarang X Jin, Jin X Steve, Hwoarang X OC]
by Chlover
Chapter 5 of Faded Rivalry [Hwoarang X Jin]
by Prosopopeia
Chapter 13 of Hands Clean [Jin X Hwoarang]
by Saihitei Seishuku
Chapter 12 of The Past is the Past [Bryan X Lei]
by Sapphire17

- Last Update -
Help support Noire Sensus - click one of the links below and vote for us :)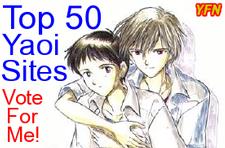 You are the
Trainee to browse the Chronicles.