Site Map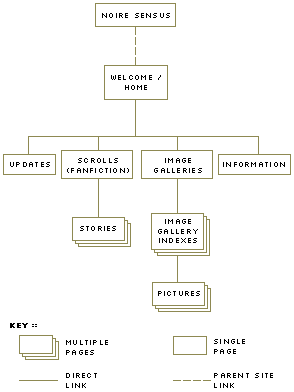 note: The 'Parent Site Link' implies that this site map is a '[Detail] Sitemap' of the Parent site(s) listed - i.e. this sitemap gives a more detailed look at (or you're looking deeper into) the structure of 'higher level' sitemaps that have a '[Detail] Sitemap' on their diagrams.
» Parent Site Maps for Apocrypha are: the Noire Sensus Site Map
Link Explanations
Navigation
± Home
Takes you back to the home/welcome page for Apocrypha.
± Updates
View the current and past updates for Apocrypha.
± Fanfiction (Scrolls)
Fanfiction featuring one or more of the Four Gods (also has some miscellaneous pieces featuring the other characters from Fushigi Yuugi). Scrolls is also part of the Bookshelf.
Pictures featuring one the Four Gods. Sorted by which God is featured, otherwise, some images appear in various archives.
± Information
Meant to have information about the real life context of where the Four Gods fit into Chinese mythology.
Support
± Glossary
Glossary and explanation of terms used throughout Noire Sensus. Especially applicable to the warnings put on all fanfiction archived here.
± FAQ
Answers to Frequently Asked Questions regarding Noire Sensus.
'Site' has all the site related information for Apocryph. As for the Site Map, that's that picture at the top of this page :)
± Contact
Contact Mage if you have any questions or comments regarding the site.
Other
Takes you back to the parent site, Noire Sensus, where plenty of other goodies abound :)
Join the Update Mailing List if you want to know when Apocrypha and other site around Noire Sensus are updated.
Read or Sign the Guestbook.
If you encounter problems, please contact a member of the staff or consult the FAQ.
Report a broken link.
+ top +